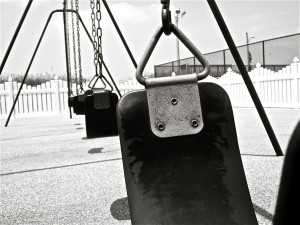 Somewhere between arts and crafts and the Art of War lies the world of work.  Stop making paper footballs at your desk for a hot second. I'm talking to you.
Do you ever feel like you should be fighting the battles of a grownup but instead you can't shake the feeling that you're just fighting the same battles you fought as a child? You thought you were on the corporate ladder to success, but now you realize you're on one of those pathetic merry-go-rounds you have to spin by hand–the kind you are either thrown off of or vomit from. The popular kids still make the rules and get all the advantages, the nerds still do all the work. The teacher's pets? Oh, they are talking to your boss right. now. And the bullies? They're still at it too, only now they're after your 401K instead of your milk money. As for everybody else,  well, they're just hoping to make it to graduation…or retirement…or at least they're just trying not to get fired.
To my great horror I discovered that high school never really ended; the lockers just opened up into cubes and the stakes got higher. Sure you couldn't have cared less about your priggish class president back then, but now she's your boss. That kid who ate paste? He's making six figures and driving a sports car. The girl from jazz choir? Oh yes. The sensitive starling is still singing, only now it's to her human resources representative every time someone looks at her sideways. The witless, feckless, wind-sucking, soul-crushing, zombies you'd hoped to escape in high school are still around and they are everywhere. They are simultaneously crowing about their perfect attendance while hacking up a lung on your desk, they are needlessly "replying all" to an email with "Great!" and they are taking bites out of your sandwich in the break room while they drink the last cup of coffee.
So now what? How does one survive? Do you have to become one of them?  If you ask me,  these questions are too depressing to answer–at least without a cocktail, but they're also too important to ignore. So, for now I"ll say–sort of.
When you consider all of the gossip and politics and pointless mission statements, it's hard to believe anything gets done in the world of work. Companies like to tout their family-friendly, all-for-one attitudes, but step out of the orientation video for a second and it's every man for himself. Offices are a lot like hockey games only slightly less civilized. They all operate under the assumption that the players are working toward a common goal.  The difference is, in the world of work, if one of the players ends up on thin ice–not skating fast enough or cheering loud enough, the rest of the team, armed with sticks, is free to turn on the poor s.o.b and either beat him into submission or drive him out of the rink altogether.  Meanwhile, some other guy who can't even tie his skates gets the Stanley Cup treatment. Through it all, the coach will be there to continuously remind everyone how lucky they are to even be there in the first place.  After all, there is always someone on the sidelines dying to get in the game. Still, everyday, we lace up our skates and try to be the MVP.  We do it because we have to,  because we have wants and needs and….bills to pay–the cold, hard, hat trick of reality.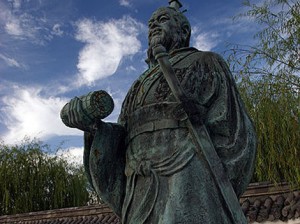 The real trick is to figure out how Sun Tzu would have handled all of this.  You know Sun, right? Ancient Chinese military strategist?  Philosopher?  Total badass?  Mr. Art of War? From the battlefield to the board room, his name is synonymous with kicking ass and taking names in the most efficient way possible.  Bottom line: it's the kind of advice that builds empires and makes kings and the best part is:  it has stood the test of time–roughly 2,500 years give or take.  As I see it, you don't have to take over the whole world, just your own world. There's nothing wrong with being quicker and smarter, or learning how to outmaneuver and outfox.  It's especially valuable when the stick-wielding skaters are gaining on you.
I wish I'd known about  The Art of War years ago.  Really. They should illustrate it for children.  Consider the following:  "be extremely subtle, even to the point of formlessness." I like to picture a young Sun Tzu taking his own advice as he casually glides past the sandbox; creeps, unseen, past the monkey bars and begins swinging on the swings, all the while keeping his eyes peeled for an over-sized 10-year-old bully and his band of toadies.  "He who is prudent and lies in wait for an enemy who is not, will be victorious." Come and get it, hooligans.
The truth is most work days fall somewhere between all-out war and a showdown at the flag pole after school. Battles are won and lost between cups of coffee and trips to the copy machine. The ongoing civil war in cubicle nation is a dangerous one and I have found myself in enemy territory more than a few times.  There have been wins and there have been losses, injuries have been sustained. There are booby traps and double agents. Regimes change and so do the rules.  I must admit I have wanted to give up many times, to surrender, but instead, I've chosen to fight.  I'd like to say it's because I have high-minded ideas of what I might contribute to the greater good, how I can effect change but the truth is:  I need the money.  We all do.  Seems to me somebody has to figure out how to "fight a thousand battles without disaster."
My mother likes to say if you don't toot your own horn, no one will toot it for you.  Maybe she should write a book.  Anyway, that bugle you hear is my call to arms. "Opportunities multiply as they are seized."
Let's Tzu this.
Me & Sun Tzu Down By the Schoolyard is a work in progress.

Copyright secured by Digiprove © 2011-2013 Kate Welshofer