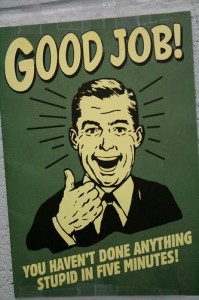 Whoever is the architect of corporate structure these days has apparently taken a page out of the largely blank modern day playbook of children's sports…everybody wins. Whether upwardly mobile or pathologically shiftless, the playing field isn't just leveled, it's eliminated; everyone, it is assumed, has something to offer even if that something is insight into the finer points of complete failure.
There is no bad merely…shades of great.
Increasingly our offices are more like hangars housing employees built like stealth bombers without the gas tanks. Sure, they can fly under the radar, but ultimately, they're useless. But in the current work climate what they do or don't do isn't half as important as how they feel. A friend told me recently that while the United States falls far behind other countries in academic achievement, it is number one in self-esteem.
We're great…because we say so.
These days, the opposite of the bright side is not dark but rather dimly-lit; it's mood lighting if you will, and still pleasant in its own way. We're surrounded now by decision-makers who don't bother worrying about whether the glass is half-empty or half-full, but rather celebrate the fact that someone took the initiative to fill it in the first place. The glass could be broken, but why even bring that up? It's just negative talk and not that's not helping anyone.
Excerpt from the essay: Shades of Great by Kate Welshofer 2011

Copyright secured by Digiprove © 2011-2013 Kate Welshofer