Okay.  You're in the Korner.  Let's get crafty.
If you're anything like me, you have enough empty wine bottles lying around to choke a hobo a couple of empty wine bottles just sitting around waiting to be recycled.  But why sentence them to blue bin banality when they could be bedazzled into festive holiday decor?
In just a few simple steps you can transform trash to treasure. Don't have an empty wine bottle?  All the better, Craftina!
Now, bottoms up! Let's git lit!
Here's what you'll need:
Empty wine bottle (s)
Corkscrew & Glass (optional)
Battery operated mini light set
Empty Bottle Instructions:
1.) Get the bottle.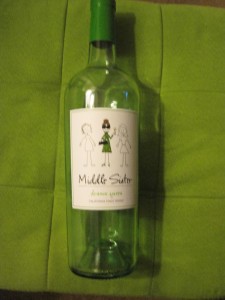 2.) Get the lights.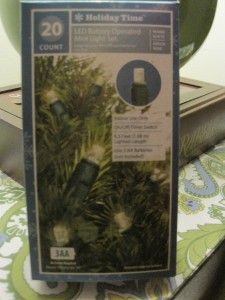 3.) Slowly lower lights into the bottle.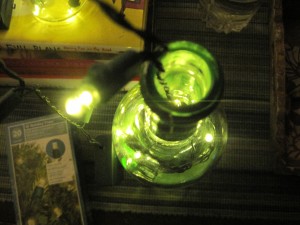 4.) Display proudly for all to enjoy.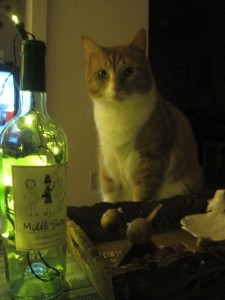 Time: 30 – 45 seconds
Full Bottle Instructions:
1.) Grab a corkscrew.
2.) Pop the cork.
3.) Pour first glass.
4.) Turn on reality t.v.
5.) Contemplate career as Real Housewife.
6.) Ultimately accept reality as Real Housekeeper.
7.) Pour second glass.
8.) Return to couch.
9.) Contemplate sewing own throw pillows to  make it "pop."
10.) Remember not crafty…one thing at a time.
11.) Return to fridge to top off glass.  Bring the bottle.
12.) Check Facebook.
13.) "Oh good…song lyrics." "Who the hell is that hooker?" "That child looks like an alien." "Is there anything you don't 'Like?'"  Ugh. Who cares?
14.) Log off Facebook.
15.) Spontaneous dance party.
16.) Minor spill…no big deal.
17.) Top off glass.  Propose toast…to yourself…in a British accent.
18.) Momentarily use bottle as microphone.
19.) Take a bow.
20.) Root out high school yearbook.
21.) Contemplate what the hell you're doing with your life.
22.) Immediately call best friend.
23.) Leave incredibly long message explaining how a dance party turned into an existential crisis. Make no mention of craft project.
24.) Cry.
25.) Go to the mirror to see if you "pretty cry" or "ugly cry."  Try to shed one dramatic tear.
26.) Wonder what you'd look like with Botox…or bangs.  Maybe bangs.
27.) RED ALERT!!!  WINE. GLASS. LOST!
28.) Swear.
29.) Search...literally…everywhere.
30.) Rest.
31.) Completely forget what you were doing.
32.) Remember you were looking for youzzzzzzzzzzzzzzzzzzz……
Day Two:
1.) Inspect face dent in sofa cushions.
2.) Attempt to lift head.
3.) ABORT!
4.) Nap.
5.) Wake.
6.) Medicate.
7.) Repeat.
8.) Attempt mobility. Trip over wine bottle.
9.) Swear.
10.) Watch Ghost Whisperer marathon.
11.) Order pizza.
12.) Trip over wine bottle…..again.
13.) Pick up bottle.
14.) Jam lights inside.
15.) Bask in the glow of your creative genius.
16.) Nap.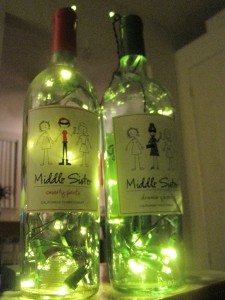 *This article is for entertainment purposes only.  You should always craft responsibly.

Copyright secured by Digiprove © 2011-2013 Kate Welshofer