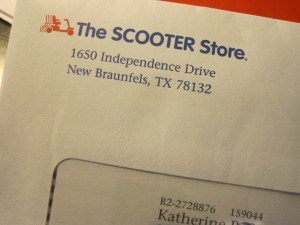 For some completely inexplicable reason an envelope arrived in the mail recently from The Scooter Store.  I instantly started wondering what sort of spending habits I may have developed that would convince anyone that I would be in the market for such a product.
I am 36 years old (almost 37) and while that hurts a little bit sometimes, AARP isn't chasing me yet. I've never had a hip replaced, I still have all of my teeth….most of them, anyway and despite repeated requests, I'm told retirement just isn't an option for me right now.
Maybe someone has been monitoring how much time I spend in front of the t.v. watching the Food Network or Lawrence Welk reruns. I don't know. But like everyone else who thinks everything that happens to them is awesome and interesting, I immediately snapped a picture of the envelope and posted it on Facebook & Twitter. The response was incredible.
"If it's not a Rascal, don't buy it," my friend Joe advised. "Nothing but the best for your lazy ass!"
Erin added, "according to the commercials, you can, 'go to the edge of the Grand Canyon, thanks to your scooter from The Scooter Store.'"
Matt offered simply, "GET ONE!"
The list went on and armed with more encouragement than anyone should have ever given me, I suddenly thought: why not? So, instead of throwing the envelope straight into the trash, I decided to throw caution to the wind, open it and consider the possibilities.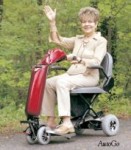 The Scooter Store, in case you haven't heard, is the premier purveyor of scooters and power chairs. It has mobilized the immobile into a buzzing little army. They claim to have helped "over half a million people regain their freedom and independence, and live more active, more satisfying lives." Sounded good to me. And if that weren't convincing enough, as I opened the envelope I discovered the good people at The Scooter Store had included a "FREE Personal Mobility Assessment" so I could see for myself  "just what a difference a power chair or scooter can make." I went over the questions one by one.
Question 1: Do you sometimes feel left out by not being able to get together with family and friends?
Sure.  Sure I do.  I mean, it happens.
Question 2: Do you have health-related issues that limit your mobility?
Define "health-related."
Question 3: Are you having trouble getting to your kitchen or dining facility by yourself for a meal?
Well, now that you mention it, Anchorcat Brian Williams is asleep in front of the fridge.
Question 4: Is it difficult for you to get to the bathroom on your own?
Who told you that, Scooter Store? Huh? That was one. time.
Question 5:  Are you unable to easily access your clothes and dress yourself each day?
Listen, Scooter Store.  Yes, my closet is a little…okay, you know what?  It's fine.  And some people said that dress was on backwards but I disagree.  It was a statement.
Question 6: Are you feeling like a bother to others due to limited mobility?
Why?  What have you heard?
Question 7: Have you fallen in the past 12 months?
Come on. 12 months? 12?  Who hasn't fallen in the past 12 months?
If you answered "yes" to any of these questions please call us.
Um….
One of our expert Mobility Consultants will discuss your mobility needs, answer your questions and also send you a FREE 48-page Slow Cooker Recipes booklet.
Wait.  What?  These people are also trafficking in Crock Pot cookery? This changes everything.
I suddenly imagined myself pulling on my house coat at the crack of dawn, climbing aboard my power chair, throwing it into drive and slowly wheeling my way to the kitchen. Once there, I'd fill my ceramic crock with various meats, vegetables and cans of soup. I'd set the dial, then spend the next six to eight hours blissfully scooting around the apartment as it fills with the smells of satisfaction and freedom.
But wait.  What's this?
IMPORTANT: Even if you

don't

need a power chair or scooter at this time – there's no cost and no obligation to receive this Slow Cooker Recipes Booklet.
Hold on. What do you mean, "if I don't need a power chair or scooter at this time?" How could I not need a power chair or scooter at this time? Is that your way of saying you're not going to give me a power chair or scooter at this time? And moreover, what good are the Slow Cooker Recipes going to be without it? Suddenly, one isn't making sense without the other to me. Six to eight hours of quality scooting daily, a pot roast or cacciatore bubbling up on the counter; it's like a dream.  I started to think that maybe The Scooter Store was going to give me a hard time on this, that the wheels had come off somehow.
I had half a mind to call them right then and there and by half a mind I mean I was operating on a few beers and a stale cupcake. I would have had more, but that would have required me to walk all the way into the kitchen and step over the cat. Plus, my phone was in my purse and God only knows where I had left that.  All I needed in that moment was mobility assistance.  All I wanted was to regain the freedom and independence I so richly deserved. But instead I just sat there with my FREE Personal Mobility assessment in my lap lamenting life's lack of guarantees.  There was no slowly turning back. I had gotten a taste of slow-cooked satisfaction and I wanted more.
What had started as an errant piece of junk mail, a case of mistaken identity, had grown into more, much more.  The Scooter Store had already driven me to the edge and I was nowhere near the Grand Canyon.  It was dangling the carrot of elder opportunities to which I will not be privy for many more years in hopes of whetting my appetite for senility.  It was enticing me with its pleasant large font assurances and potluck promises.  I was perfectly happy to ignore their advances until they went and made decrepit seem–hot.
I want. No. I need that chair and all it stands for–freedom, independence, half-price coffee, pantsuits and sweet and sour meatballs that cook. all. day.
Somebody get me the phone.

Copyright secured by Digiprove © 2011 Kate Welshofer