Remember all these losers?  Pull on your pink chinos and clip on your extensions, friends.  It's time for the recap.
If you enjoy being bored out of your mind and reliving awkward moments then CONGRATULATIONS! You must have loved last night's episode. "The Men Tell All" is a Bachelorette staple. It's an opportunity to get the straight dope from the poor slobs who didn't make the cut.
"TELL US WHAT IT'S ALL ABOUT, KALON! WERE YOU JUST MISUNDERSTOOD?"
*sigh*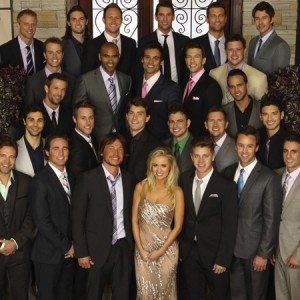 Sure we all just wish this was over. Just pick who you will eventually dump anyway spend the rest of your life with in complete and total wedded bliss already, Emily, and let us get on with our lives. Bachelor Pad is coming back after all (speaking of losers.) But now we're in it and so why not? Let's just see if anything good happens. There's always hope.
We open this mundane scrapbook of memories with a sit down with Emily and Chris Harrison. Chris Harrison. Thank God for him. He makes this episode. He gets to say what we're all thinking and has the great pleasure of making fun of everyone right to his (or her) face. Chris and Emily look back fondly at all those magic moments–like when Emily staged putting makeup on her little mouthbreather as she teeters around in her mother's heels–because she is such a "normal mom."
They also talk about things we didn't get to see! Now, this sounds promising, I think to myself. Let's hear it!!
"That one time? At Flower Vomit Manor in West Virginia? I spilled a drop of wine on my dress and made a huge deal out of it and then I swore too."
*crickets*
Wow.
And things really don't get much better from there. We learn that ProbosChris Monkey is a terrible dancer and Arie's brothers are as creepy as he is (they spied on Arie and Emily making out on the hometown date from the bushes–charming.) Thankfully, the character with hands-down the most personality in the show makes a triumphant return to the small screen–Travis's egg! Emily sang to him! Badly! But even if she is an awful singer, she can cut a rug. Emily announces she can do a "mean running man," which we can apparently look forward to seeing after the final rose. Chris Harrison has $4 riding on it. No way it's that good–but we'll see. Also, she needs her "runnin' man shoes"….so….that's a thing, I guess.
By the way, the men? Yeah.We still haven't heard from them and as the show limps into another commercial break we learn we won't for at least another 10 minutes. Instead we're treated to a preview of the tequila-soaked petri dish that is the Bachelor Pad. ProbosChris, Kalon and Italian Fallon will join the other has-beens, hangers-on and fame whores to compete for a $250,000 prize.
"I need this money so bad," says VIP cocktail waitress Blakely, "I want to be able to put food in my refrigerator, gas in my car. It's that bad."
Um…with $250,000, Blakely?  Are you stocking your fridge with rare truffles? Driving a $100 million strip mining machine? Here's an idea. GET A REAL JOB, YOU MORON!
Also joining the gang is super-awkward bad kisser from Ben's season (and Central New York native) Jamie. Judging by the four second clip of her half-meowing with her ass in the air, it looks as if she will be providing more of the same cringe-worthy moments. What a delight, sweetie!
But wait! Who are these interlopers?! Superfans, WHAT? That's right, a bunch of viewers are getting on board this time around threatening these fake celebs with a reminder that yes, just anyone can come on this show. Most people, these four superfans not withstanding, have never heard of you and you are not famous. The blonde sasquatch from Ben's season grunts some guttural comment about them not "earning their spot" and then it took a solid 10 minutes for me to roll my eyes back into their sockets.
That reminds me–I'd be great in the studio audience for The Men Tell All.  I'm so good at shaking my head, rolling my eyes, mouthing "no way" to my friend sitting next to me and I love to clap. The audience is one of the best parts of this show if you ask me. I have my chance to do all of those things–finally–as the men are introduced and are, presumably, ready to "tell all."
The men are introduced–Kalon gets booed, Sean gets thunderous applause (heeeey, Sean) and, wait a minute. Hang. on. a. second. Wolf are you wearing pink pants? What the? I'm not even listening to 90% of what's being said because I'm focused on those pants. Wolf. You're just full of surprises–summer-weight, pastel surprises.
That's where the surprises pretty much end, though. What follows is a complete rehash of everything we already know and didn't care about in the first place, although my ears did perk up when Sean said something about "embracing every part of a woman."  Tell us more, Sean. Tell us more. The majority of the men do exactly what they did when they were on the show–which is to say they faded into the background and you can't even remember most of their names.
The real star here, though, is Chris Harrison. He is never at a loss for one-liners as he questions the deluded likes of Kalon and Ryan.
"Is there a possibility," Chris says to Ryan, "that you just might be that arrogant ass?"
To his credit, Ryan has employed a strategy to embrace his complete idiocy to comedic effect. Even if he is a total tool bag, he was at least entertaining.
"I found my journal the other day…." he begins.
What? Can you imagine the contents of that journal? Next thing you know we learn Ryan was trying to set up Wolf with his ex-girlfriend and he had dreams of being the next Bachelor.
"Not gonna happen."
100 points. Chris Harrison.
Weirdly, though, I'll take Ryan being unapologetically himself, however bad that is, over Kalon's half-hearted excuses and back-peddaling or downer ProbosChris's non-stop harping any day. Don't get me wrong, I'm not a huge fan of Ryan by any means, but in this extended yawn of a season, I'll take my entertainment where I can get it.
Sean's turn on the hot seat reveals that this is the first time his heart has been broken. He's hopeful that he will find the right person and love again.
"Hopefully she comes around sooner than later."
*A-HEM!  Cough, cough,…look over here!!!*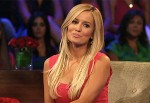 About this time Emily shows up, greeted by an awkward hug by Italian Fallon (you are always that guy, Italian Fallon…always.) With extensions straight out of either Ricki's toy box or Barbie's town house, our gal playfully catches up with the men whose still-beating hearts she still holds in her hand.  Then, to the great delight of everyone, the hood rat comes back from West Virginia to tell Kalon he's full of shit.  We already know this, of course, but it's still fun to watch.
She calls him out for a tweet I wish I had thought of–a picture of baggage claim at the airport with the caption "Thought for sure I'd see Emily Maynard here." He he he.  Baggage claim. He's not sorry and should probably win some sort of contest for the look of contempt he gives Emily. The funny part is: I can't really stand her either at this point and so as far as I'm concerned it's hard to care one way or the other.
Next up is Ryan vs. Emily and I suddenly realize this show could have been an hour long if they just brought Emily on sooner. It's the same old story, Emily can't stop touching her hair and it's all just driving me nuts. If she's such a good judge of character how is it that she could never manage to see through guys like him? I don't get it.
Everyone could use a good laugh by this point and so Chris Harrison announces the season's bloopers and he wins again with his first question.
"So how many of these guys do you think you're going to sleep with?"
Amazing.
From there, it's pretty much plants blowing over, people falling down and men taking their pants off. Also, Doug the Hug has some ridiculous tattoo, which may have been a plus for him had he ever taken his shirt off in front of Emily. She reveals her type as a "tattooed homeless man."
A girl can dream.
We get a final look at Emily's last two suitors–Arie and Jef with one F.  It's a montage of Arie's giant mitts all over Emily's face and Jef with one F being generally, well, Jef with one F–mellow, fun, sweet.  Who will Emily choose? Or will she? Maybe she'll just chuck it all for a lifetime of YouTube "mini lion" videos!!
So, now we're in it for three hours on Sunday–the finale followed by the first ever, most dramatic, oh my God, unreal LIVE After the Rose show.
Can't...yaaaaaawwwwwwn…wait you guys. See you then!!

Copyright secured by Digiprove © 2012-2013 Kate Welshofer