Sooooo-iiieeee! We're living high on the Prague! Czech it out!  He he he.  All right, all right.  Settle down everybody. This is SERIOUS! There are six men standing, but only four will win the privilege of introducing America to their parents. Who will it be?  Let's get to the recap!
Are hometown dates next week, you guys? Are they? Wait, hang on. They are? Are you sure? Wait, let's have everyone in the cast say "hometowns are next week" just to be sure so we can fully understand just how important this week's episode is. They are next week then. Sean? Arie? Jef with one F? Doug the Hug? ProbosChris Monkey? Wolf? Chris Harrison? Emily? Emily again? Emily…one more time. Say it again?Okay. Thanks, everybody. Good work.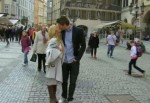 We open with a one-on-one date with Arie, who, by the way is really giving me the creeps these days. He's got this strange reptilian thing that just bothers me. So, naturally, Emily is smitten and I'd be willing to bet he's the one she wants to pick. Do you see the way she looks at him? Anyway, she spends the date playing pretend-wife and strolling around with a guide book. Everybody's kissing and drinking hot wine. (I've had that by the way, but it was when I accidentally left a bottle in the backseat of my car. It was still delicious.) Anyway, he's smiling, she's smiling. Everybody's rubbing statues for good luck or loyalty or just because it's fun to rub stuff every now and again and then….
"I know something he doesn't know I know about," Emily chirps to the camera.
Arie has secrets?! Arie's hiding something?! QUICK, CHRIS HARRISON! TELL US WHAT'S GOING ON!"
Enter Chris Harrison.
"Hi. I'm Chris Harrison. Arie briefly dated this hideous-looking producer of the Bachelorette named Cassie….*shudder*….ugh. Emily didn't know at the beginning, but then Crazy Cassie  told her because she's crazy and wants attention or because it was all a setup from the beginning because that's what good girlfriends do. We staged an interview between the two of them because ABC wouldn't allow us to show mud wrestling during primetime. We'd like to show you that interview now."
The interview went something like this:
Emily: "Um. This is pretty f'ed up."
Crazy: "Uh. But seriously? I totally don't even know him that well."
Emily: "Still."
Crazy: "Right."
Emily: "Arie's not telling me something and now I'm going to trap him on our date in Prague. AAAAAHAHAHAHAHA!!!! THIS IS REAL LIFE!"
I may have paraphrased a majority of that last section.
Meanwhile, back on the date, Emily is leading Arie down the primrose path asking questions that she already knows the answer to like, "do you think you're trustworthy?" Of course he says he is–reaaally trustworthy, as a matter of fact. Super honest. It's just a matter of time before she springs the trap and by "matter of time" I mean an excruciatingly long time. Arie eventually cops to having a tattoo of his ex's name during this whole little charade, which honestly, I found to be somehow worse than dating that long-faced gila monster Cassie and not mentioning it.
Thankfully, Chris Harrison is back to both save us from the world's most awkward chat and give us the straight dope about what's going on. Apparently, according to Chris, the three met to "discuss the issue" and "unfortunately" that happened off-camera. Of course it did. Arie said he didn't think it was a big deal. Emily agreed all of a sudden and everything is fine. For her part, I suppose Cassie can celebrate being remembered as the most forgettable woman in history.
"Her? Oh right."
Now, you can either believe all of that or you can believe that it was never a big deal for Emily or anyone and that a three-way convo never really happened–at least not the way they say it did. In a season as boring as this, the producers probably took a lemonade out of lemons approach to the whole situation and decided "oh why not. Let's blow it up. At least it's interesting…finally. Cassie, you in? Arie?"
I'll take choice B.
Fast forward and Arie is putting his creepy lips and gropey mitts all over Emily and becoming less and less attractive by the instant. My God, is he covered in moles?
"WE ARE STRONGER BECAUSE OF THIS! I LOVE YOU! CUE THE FIREWORKS!!!"
Back at the man-sion, ProbosChris Monkey is in the middle of  a late season Bachelorette panic. There's always at least one every season. There's always a guy who spontaneously falls in love despite being on one date with whoever the girl is and then proceeds to freak out that they're not spending enough time together. It doesn't get any better for ProbosChris when Wolf gets chosen for the next date. To his credit, though, ProbosChris admits he is going nuts, which is endearing at the very least…at least for now.
Poor Wolf. He may have gotten the date, but that's about it. Emily is only humoring him and I think she realizes the error of her ways in giving him that extra rose last week. It's just not happening and it's nobody's fault, it's just one of those things. She says as much on their date, especially when they stop at a wall of padlocks. The story goes that couples put a lock on the railings to signify their everlasting love. Unfortunately, Wolf literally can't lock it up (FORESHADOWING!)  But the worst part is, when it comes to Emily's indifference, Wolf has absolutely no idea.
"I'm confident I'm going to get a hometown."
Uh oh.
The group date card arrives and to ProbosChris Monkey's great disappointment he is on it. So are  Sean and Doug the Hug. Seeing ProbosChris's emotional collapse in motion, Sean decides to take action. He doesn't want to end up like that, so in an effort to fight crazy with crazy, he decides to chase Emily down in the streets of Prague for some one-on-one time. All-in-all, it's well-played. Well-played indeed, Sean. There is something to be said for the man of action. It beats complaining on the verge of tears. (Sorry, ProbosChris.)
The guys arrive for the group date and for once it does not involved dressing up in costumes or making up dance routines, rather the guys and Emily spend a day exploring a castle–which, of course Doug the Hug says would be an 11-year-old boy's dream. Because he has a kid, in case anyone forgot. He proposes a sweaty toast and then off he goes with Emily to what we immediately know will be his demise as she remarks that he is everything she is looking for….but….
Once "but" comes into the picture it almost doesn't matter what comes next, but for Emily it's that she doesn't know if the "spark is there."  We learn she was going to send him home last week but then basically felt bad. This is a lesson that feeling bad gets you nowhere in relationships, except in awkward situations. It just prolongs the inevitable and I'm sure that's exactly what she was thinking when she was locked in that tower with weird, twitchy, sweaty Doug the Hug and then down in the street where he decides to go in for a kiss in the middle of what is essentially  a break-up speech. It is one of the best moments I've ever seen.
"Thank you…for that," she says.
"Yyyyup."
Oh God.
And so we bid farewell to Doug the Hug, who, of course, didn't see it coming. For a moment there, it seems like he wants to get mad but thinks better of it and just crawls into the van. Mancrying!
By this time, we've almost forgotten that there were two other people on this date and it is with great horror that we realize that we will have to endure a dreaded two-on-one date situation. It wouldn't be so bad had ProbosChris Monkey not been on the verge of a complete and total nervous breakdown.
Sean and his great big key save the day…briefly. He should have done ProbosChris a favor and choked him with it. Instead, ProbosChris Monkey is left to his own devices and when he does get Emily alone, he launches into an ill-advised "I've got a bone to pick with you" conversation about not getting a one-on-one date.
His mood goes from bad to worse when Emily declares the rose "the most important to date" and proceeds to hand it over to Sean. I'm glad she's learned her lesson about not doing things because you feel bad, but I'm also a little afraid I'm going to, for the first time, see a human being spontaneously combust due to rage. Like I said before, though, the one thing Chris has going for him is that he knows he is off-the-rails and acting crazy. He absolutely knows he's "that guy." He's left to spend the next afternoon stewing as Emily comes to pick up Jef with one F for the one-on-one date ProbosChris had hoped would be his.
Very, very weirdly, I find myself becoming a very big fan of Jef with one F. Next to Sean, he is my favorite and it's not just because he can make a Michael Jackson marionette moonwalk. But that helps. He seems nice and normal and funny without being too weird or too creepy, which is too bad. Emily seems to gravitate toward weird and creepy. Those two terms were redefined as the two spent their one-on-one date reenacting their relationship through marionettes. I can't help but notice Emily's puppet delivered a much less wooden performance than her human counterpart.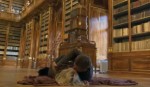 They spend the rest of their date engaging in that age-old happiness test of lying on a hardwood floor to see how much you really like each other. Both apparently pass as Jef announces to Emily, "I want to date you so hard and marry the shit out of you."
I'm already taking cross stitch lessons so I can embroider that phrase on pillows and sell them on Etsy.
By the time we get to the rose ceremony, ProbosChris Monkey is quite literally falling apart. Still, he's confident that if he can just talk to Emily at the cocktail party, he can apologize for acting crazy and smooth things over and just tell her how he feels. Yes, that's all it will take.  That will be fine. Meanwhile, Wolf is doing that awesome thing that I thought only girls did. He's being really supportive to someone who he believes is completely doomed because it will benefit him. It makes you look super nice when you're really  being incredibly selfish and rotten and it gives you the opportunity to feel like you're being a really great person.
Oh, hey Chris Harrison.  What are you doing here? What do you mean….no cocktail party?
You can almost hear ProbosChris Monkey's head explode. Through emerging tears and continued pacing, he says a series of things that are great, but the best, and perhaps most accurate is, "I don't feel right."
Yeah man, and you do not look so good either.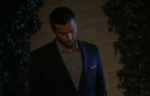 By the time we get to rose ceremony, frankly I'm surprised that ProbosChris has survived the commercial break, but I'm not sure if he'll live through the final rose. He is twitching so much it's terrifying. This is a man who you think to yourself is either going to drop dead, set a fire or kill someone–maybe all three.
Wolf still maintains faux concern as they line up for the one-woman floral firing squad. I've watched this show enough times to know exactly where this is going but it's nice to know they still like to keep it interesting.
The tension mounts, the roses are given out–Jef with one F (Yay!), Arie (Ew!)  and then, finally, ProbosChris cracks.
"Emily can…I….can I talk to you?" He stammers.
She agrees and he gets the chance to say what he needs to say and make it weird for everyone–again–all at the same time. Hooray! Of course, anyone who has been paying attention would know that she's sending Wolf home (sorry, Wolf) and, of course, he's the only one who didn't see it coming. The tattered prayer cards from his grandparents' funerals saved him last week but his hard-luck "she cheated on me" story wasn't enough. Pity only gets you so far or, as Emily found out with both Wolf and Doug the Hug, it gets you nowhere. You can't continue to date someone because you feel bad for them. It just doesn't work that way–not even on idiotic reality t.v. dating shows.
For his part ProbosChris Monkey is on cloud nine and I hope he enjoys it. I'd be willing to bet he'll be packing his bags next week. Speaking of next week…HOMETOWN DATES!
Race cars! Kissing! Sean running down a driveway! (rewind) Sean running down a driveway! (rewind) Sean running down a driveway! (rewind) Sean running down a driveway! (rewind) Okay see you guys next week! Sean running down a driveway! (rewind) Sean running down a driveway! (rewind)

Copyright secured by Digiprove © 2012-2013 Kate Welshofer