Sometimes a girl's just gotta rant. This one's for you: people who always comment on everything but the clear subject of a picture. I'm on to you and just so you know? You're doing it wrong.
I was mindlessly scrolling through Facebook not long ago when I came across a picture a friend of mine had posted. "Perfect movie night" was the caption. Taking center stage in the photo was a tall glass of cold beer. You could see he had his feet up and I thought to myself, "well, that's nice." But then I noticed someone had made a comment.
"Dude! What's on your coffee table? lol"
I searched the picture, looking more closely now. I studied the contents of it–looking past the beer and around his sock feet. I leaned in, backed up and finally, I recognized the telltale shape of a pair of perpetually pointed Barbie feet poking ever so slightly into the frame–a playtime remnant, no doubt, of one of his young daughters.
"Oh no," I thought to myself, "not another one."
There is a certain segment of the population that enjoys sharing what it believes to be its unique take on almost everything in general and pictures in particular. They are rebels who aren't going to just take your vacation photos at face value, they're going to find the meat, really get down to the nitty-gritty. These insufferable nitpickers are taking over social media. Mr. Barbie Feet was just the latest offender, but these people are everywhere and they are dissecting every last photograph you post, ready to pounce with a pithy remark that has absolutely nothing to do with what any reasonable person would consider your original intent in sharing the picture in the first place. It's totally obnoxious and it makes me completely insane.
Welcome to my rant.
Get the root of it and I'd say it probably all comes down to good old-fashioned narcissism. "If I can't be in this picture, at least I can make it about me."
"LOOK AT ME! I'M SO CLEVER!"
What other explanation could there possibly be? I mean, I suppose there's always plain, old stupidity but, really, that's always a factor.
In the case of Mr. Barbie Feet, what was the point?  Why try to make someone's "perfect movie night" into "Late Night at Dr. Creepy's Doll Palace." I mean, had there been a set of actual human feet lying on the table  I maybe could have seen his point in drawing attention to them, but circumstances being what they were, it just seemed mean-spirited.
My friend didn't bother to respond to the comment, but I like to think he slowly took the beer in his hand and  as he raised it to his lips said in a husky, hushed voice…
"Oh….fuck you."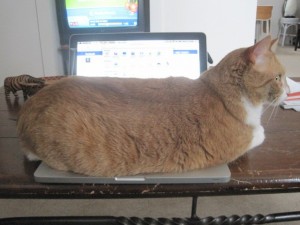 Take a look at this picture of Brian. I posted it on Facebook well over a year ago now as part of an album I called "Tech Support." Stupid, probably, but what isn't stupid on Facebook when you really get down to it? Anyway, so I can be clear about my intention, this is a picture of a cat sitting on a computer.
The first comment?
"Did you seriously pause 'What Not to Wear'?"
Are you kidding me?
Yes, I was watching the makeover show "What Not to Wear" when Brian climbed onto my computer and yes, if you squint and push your face up to your computer screen you can clearly see that I had paused the program to take this picture. There. Are you happy now? You have pulled the curtain away. You have revealed me as a person who would not miss a moment of a TLC program to take a picture of her cat. Mission accomplished.
The commenter proceeded to hold court on that post, fielding questions and cracking jokes. I've secretly despised the whole situation ever since. What makes me the most mad is that I think about it every single time I post a picture online. I take great care to observe the background of every photograph so as not to make the mistakes so many others do–indiscriminately snapping photos with errant activity just waiting to be called out. I've made it my mission in life to beat these snapshot critics at their own game.
But it doesn't always work.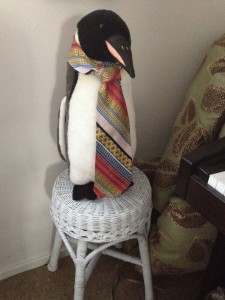 Take this photo, for example. This is The Emperor and over the years he has been keeping watch over the various places I've called home. The tie is a recent addition and as I regarded it the other day I got to laughing. While he has become a fixture in my house, often escaping notice, most people, upon first glance, would probably find his presence at least a little odd.
I snapped this shot of him and posted it to Twitter remarking, "I'm the only person you know…who has this."
Moments later a response.
"A piano?"
*Silence*
Yup. Yes. A piano. You got me, man. You really got me.
AHHHHHH!
My rule of thumb is–if you are going to be obnoxious, at least be funny.
Allow me to point out, before someone else does that yes, all of this, of course, is frivolous and it comes with the territory of interacting with people online. It's like any community.  There are always going to be a few irritating creeps who allow their dogs to shit on your lawn. Post a picture of it on Facebook, though and they'll likely ignore the defecating dog in favor of criticizing the stripes on your porch furniture or the air bubble in bumper sticker on your car.
Bottom line? The world is not your Magic Eye, this isn't CSI, you're driving everyone nuts so knock it off. And just for the record? You're also the same people who answer rhetorical questions.  Stop that too.
Rant over.
Good day.

Copyright secured by Digiprove © 2012-2013 Kate Welshofer