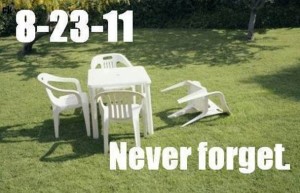 "I smell a blog post."
If there is one thing I can admit about myself, it's that encouragement only makes me more dangerous and so when more than one person showed even the slightest ounce of excitement over what I might have to say in the aftermath of Tuesday's earthquake (and by "more than one," I mean two) it seemed only appropriate to comply.
First let me say this: things don't necessarily have to be incredibly dire to be interesting or newsworthy. Out of the ordinary will do well enough, especially on a fairly average Tuesday. After the earth shook, well, shuttered anyway here in Albany, New York, we devoted just about four hours of live coverage to it and it seemed just about everybody wanted in.
"No. Wait.  Let me tell you what happened to me!"
Phone calls, emails, Facebook posts, tweets–first the questions poured in–"Did we just have an earthquake?" and then the stories followed. One by one, we heard Earth-shattering accounts from "our dogs went nuts" to "I thought a truck was going by." We were also treated to our fair share of over-sharing with the likes of, "the water in the toilet bowl moved back and forth" and the clinical "I got nauseous."
This is the kind of event that really brings people together as they rally around a shared experience–first the event itself and then the collective mockery of the news coverage of it. People can't seem to stop talking about things like this and then they subsequently can't stop talking about the absurdity of the attention they're given. Go figure.
Nevertheless, none of us will ever forget where we were when it happened. I know I won't because–I could have been killed.
* * * * *
When I got word we'd had an earthquake my immediate response was, "Where?  Here?"  The truth is–I didn't feel it. Yes. I'm one of those people. Instead of remembering the day of the earthquake for the earthquake, I'll remember it as the day I almost got hit by a car.
Had you interviewed me immediately following the incident, I would have followed the script perfectly.
"It just happened so fast!"
One moment I was walking to my car and the next thing I knew, there was flash of red and I was struggling to stay out of the path of a speed demon.  It never occurred to me that homicidal maniacs would drive Cabriolets, but I suppose it takes all kinds.
The woman behind the wheel of this particular rusty little tin can never hesitated and had I taken one step more, I would probably be blowing through a straw to write this story. As it was, though, I stopped short and she sped past, kicking up nothing more than a light breeze in my face. All in all, it was all pretty anti-climactic, which pretty much set me up for the rest of the day perfectly.
Almost getting hit by a rusty little Cabriolet packs about as much punch as sort of feeling a Virginia earthquake in upstate New York. Had I actually gotten run down, it probably would have been much more noteworthy. Still, it makes a decent enough story and I didn't mind exhaustively telling it to anyone who would listen to me.
"I could have been killed."
But I wasn't and neither was anyone else.
Sure, I consider myself lucky that I wasn't actually hit or that the ground didn't open up and swallow us both at that moment, but I've had the kind of week and a half where a considerable traffic accident or a catastrophic natural disaster could be considered a refreshing change of pace.
But as it is–no major damage, no injuries sustained.  I can't wait to see what almost happens next.

Copyright secured by Digiprove © 2011-2013 Kate Welshofer