All right. Let me just say that if you haven't read part one and part two in this series, you really should. If you haven't read 50 Shades of Grey yet and you still want to, I'm going to try not to ruin it for you. Actually, I'm not sure if there's anything to ruin, necessarily, but still. If you don't want to know anything about it at all, I'd probably suggest you stop reading now. Okay. You have been warned.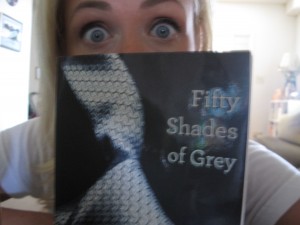 I had settled into my chair on the porch, poured my coffee and put my feet up. The sun was shining, the birds were chirping, but everything else was grey–50 Shades of Grey. (More writing like that and I'll land myself of the New York Times Bestseller list. Right, E.L. James? Hehehe. Christ. But, I'm getting ahead of myself.) After all of the buildup: the chat with BanderOz, the trip to Target, the mental image of E.L. James doing unspeakable things at a community clambake, I was ready to finally discover what all of the fuss was about.
And so it began.
To briefly explain the plot, 50 Shades of Grey is about the relationship between a young, virginal (or at least she starts that way–ooh, sorry *spoiler*!!) college student, Anastasia Steele, and a young, impossibly handsome, cool and mysterious captain of industry, Christian Grey. Physically, she is plain as the day is long and he is a model of perfection. She's innocent, he's worldly. She works in a hardware store. He can fly a helicopter. How will this ever work, you ask?? I know, you guys, right??!
Anyway, these two cross paths and it. is. on…..well, eeeeeventually.
10 pages, 20 pages, 30 pages and you can't help but wonder: after all I went through, where is the smut?
Sidebar.
Me: Siri, remind me to write a song parody "Where is the Smut" set to the tune of the seminal Black Eyed Peas hit "Where is the Love."
Siri: "I can do a search for 'seminal peas.'" 
Me: UUUUGH. Forget it.
Siri: "I didn't get that. Did you want me to search for 'seminal peas.'"
Me: Actually, you know what Siri?  Knock yourself out.
Siri: "I'm sorry. I don't understand, 'knockerkraut'"
*facepalm*
40 pages, 50 pages, 60 pages. Wait, "red room of what now?"  Well this just got interesting.
The "what's Christian's deal" shoe drops fairly quickly only it's a swift kick to the ass (and he loves it.) You see, Christian is a pain is pleasure kind of guy (aren't they all, really, if you think about it? Ammiright, ladies.) No, seriously, I'm talking about actual pain–he's in to giving, not receiving, though (again…typical.) Anyhoo, as an extra added bonus, the whole…let's string you up from the rafters & let loose the fire ants thing is not just part of his relationships it defines his relationships and not getting on board with that means not getting on board with…well…with him. In fact, he produces a written document for Anastasia to sign agreeing to essentially have the sexual shit beat out of her on his whim.
What a delight!!
Anastasia gets a glimpse into this side of him during one of her visits to his enormous home. In it is a room filled with various hooks and sticks and clamps and ropes, tubes and bands and balls and thingamajigs. He's got whatsits and whozits, hoozamawitchits, whatsamabobs, yoga mats–it's a veritable pornacopia of things tailor-made for the kind of people who equate slamming someone's private parts in a door with real and lasting sexual satisfaction. Dr. Seuss&M…probably.
70 pages, 80 pages, 90 pages.  OH! There it is. There's the smut. That sounds, well, it sounds technically correct anyway.  All right. It's intriguing enough to keep reading.
The more I read, though, and the more I know, the more questions I have and the more I just just cannot believe what is happening. This is unlike anything I've ever even read or even heard of before. I'm not kidding. This pairing, these people, all of this stuff…what is happening?
For example, you mean to tell me, Anastasia Steele, a recent college graduate, has a ridiculously hot guy after her 24/7 and she is not constantly checking her phone OR her email? EVER? IMPOSSIBLE. She doesn't, for the record, and I can't get past it. It is just the tip of the iceberg for her generally annoying and implausible personality. She is what I like to describe as "not believable as a person." In addition, her manner of speaking makes her the narrative equivalent of an ice cold shower–her nicknames for things, her oddly creepy descriptions, her overly innocent declarations in moments where innocence has already left the building.
"HOLY COW!"
Holy. Cow? Honey, generally speaking, if you have the occasion to be horse-whipped by a practical stranger, you are past holy cow. Far past it. Try…"holy shit," at the very least.
With every page that goes by, I start paying less and less attention to the story at hand and start writing an open letter to Anastasia Steele in my head.
Dear Ms. Steele,

Where to begin?  You are….the worst. I have a few questions and concerns and so I'll just jump right in.

HOW do you keep MISSING HIS CALLS? He is CALLING you…an actual phone call. Do you know how RARE THAT IS??! Also, he gave you a computer because he was so desperate to contact you–a computer and you act like he slid a cobra under the door. (Although, to be fair, I wouldn't put it past him.)  Still, who calls a computer a "mean machine?!?" It's a computer. No, it's a Mac…so it's better than that…but anyway. It's idiotic. Checking emails is not the same thing as defusing a bomb so stop acting like the damn thing is going to grow fangs and kill you in your sleep. On second thought, that would be awesome.

What was your major again? Actually, you know what? I don't care. I'm over it. And while I'm at it? Stop using the word "sated." It's creepy and I just can't take it anymore. I kind of want to hit you with a cane….just on general principles.

And why? Why? WHY do you insist on calling your lady business your "sex?" I don't have a better word for it off the top of my head right now, to be perfectly honest that's not clinical or completely filthy, but every time  you say "my sex" in relation to your hoo-ha I spend at least five to ten minutes trying to think of one, which is just completely ridiculous and I'm pretty sure something you're not supposed to be focused on when you're reading lady smut.

Finally, shut up about whatever your "inner goddess" is doing already–frowning, cheering with pom-poms, holding a picket sign. It's just the worst. No one cares about your inner goddess and it's weird enough without her getting involved. No one's interested in your emotional threesome.

There's a lot of other stuff too, but that's a good start. 

Toodles,

Kate Welshofer
And this, as I explained before, is exactly what's wrong with me when it comes to these types of books. The sole purpose here is to try to bring a little something spicy to your average read. It's an elicit look behind closed doors and I'm stuck on the fact that a girl leaves her phone in her purse and talks like a creepy literature major with a minor in women's studies.
It's completely mental.
I mean, my God. I can get past the fact that Anastasia Steele will put up with getting hit with a riding crop because she likes the way Christian Grey's pants hang from his hips, but somehow her vocabulary drives me nuts. Don't get me wrong, I'm a red-blooded American gal who's a big fan of a good looking man, but still.  I'd pray for Christian to produce a ball-gag, but as Ana is the narrator, it hardly seems like it would do any good. Christian, for his part, is really no better. There comes a point where I found myself internally yelling to myself, "Oh God. Get over it. We get it. You're damaged. Blah, blah, blah." He signs off with what John Mayer would probably term the sexual napalm of send-offs with his "Laters, baby."
*Throws up in mouth*
I think back to the beach in Aruba and realize I had a manner of curious amnesia. I got hung up on the main topic and didn't stick around to hear the actual review. What I heard was, "porn" and "it's kind of hot." What I didn't realize is that the emphasis was on the "kind of." It was "kind of" as in "not really" not as in "totally." Now, I understood why. It's "kind of" because it's supposed to be but when you really look at it, it all seems kind of awkward and creepy and generally bleak. It's all a little sad–I don't care how good you look in a pair of dress pants.
The bottom line for me, I suppose, is that I'm someone who is a fan of books, of writing and of words. I realized something incredibly important through all of this–the right ones really do it for me and the wrong ones? Well, they might do it for awhile but, eventually, it just doesn't sit right and I can't get over it.
Still, as a hopeless romantic, maybe beyond hopeless, I can't help but think maybe it would be great if these two crazy kids could make it work. Can Christian have a relationship that doesn't involve vice grips? Can he have meaningful sex with someone who is not restrained? Can Anastasia ever manage to act like…well, not a creepy idiot? These are questions I need answered.
In what what was probably a predictable move, I went to the one place where I knew I could find answers. I headed to Target. I bought paper towels, garbage bags, a hammer, charcoal briquettes  (and again, I may be making some of this stuff up) a set of hand towels, a spatula, sleeping pills, swim float, rubber gloves….and….the second book, Fifty Shades Darker.
What can I say?
I guess I'm a glutton for punishment.

Copyright secured by Digiprove © 2012-2013 Kate Welshofer