I consider the fact that you have gotten this far a victory. Why? Read on.
I've been told I'm funny when I'm mad. I would be lying if I said I wasn't at least a little bit proud of that. Finding humor in the maddening is a default for me. It's a defense mechanism and as I've gotten older I have learned that, ultimately, it can be a valuable skill–the ability to turn negative into positive–or at least the completely ridiculous into the mildly useful.
I'm generally a little loud but when I first get mad, I get very quiet. Then, as the anger builds, I get louder. I can get a little shouty. I tend to rant. I circle and circle and circle around the same point–all in an effort to make whatever my case might be. It sounds like I'm explaining the cunning work of a vulture but it's more like the inevitably slow descent of water in a lazy drain–only more absurd. Maybe like ice cream in a drain. Mmm. Ice cream.
Anyway…
There I am–trying to make a point, words are flying out of my mouth like bullets from a machine gun–rat-a-tat, rat-a-tat, rat-a-tat, rat-a-tat.
I'm doing it! I'm passionate. I'm making the most sense anyone has ever made in the history of public speaking.
*rat-a-tat, rat-a-tat, rat-a-tat, rat-a-tat*
*Circling, circling, circling, circling.*
I'm attacking the issue, whatever it is, with great fervor. I mean what I say and I'm not backing down.
I'm mad, after all.
Dammit.
It is somewhere around this point that things start to change. The sniper in my brain that was squeezing out the rat-a-tat-tat of coherent words and arguments apparently takes five–allowing for a clown skilled in a little light magic to step in.
Gone is the precision and in its place is the verbal equivalent of a slightly overweight hedgehog in a party hat pathetically sliding from a novelty chute. The hedgehog lands with a unceremonious plop in the middle of the once serious discussion–half-smiling like the spiky idiot he is.
It's around this time that I typically pause for effect–arms incredulously outstretched in the silence before finally declaring, "RIGHT??!"
My friends have indicated to me over the years that this personal habit puts them in a bit of a tight spot. They are trying to listen and be supportive and understanding but instead, they end up stifling laughter. They fight to keep a controlled expression–faces contorted, tears beginning to form in their eyes.
"I'm sorry," they almost always say, followed by halting, "I'm…not…laugh…ing at you."
Typically, this is when I start to laugh too and whatever I was so mad about ends up feeling ridiculous and we all just get on with our lives. The wind drops out of the sails. After all, most things are not worth getting that mad about anyway. It's just toxic noise that brings us down. What's the point?
These are the things I have been trying to tell myself lately as I have been circling and circling and circling around an issue I can't seem to let go.
I can't make it funny and that makes me mad.
*Quiet*
I like creative projects and I always have. It's why I started this blog and, eventually, my channel on YouTube. From the beginning, I made a deal with myself. I had to do things for me and do them my way. I knew it was the only way I would survive–particularly on the Internet. And it's worked out pretty well for a pretty long time.
I was excited to get more followers, viewers, subscribers. As I have said more times than I can count–I was thrilled to be entertaining someone other than myself. It felt good. I was doing something I really enjoyed and other people were on board. I've met some amazing people and had some great opportunities. You can't beat that.
Week after week, I was energized by the challenge and the process of having to come up with new videos–even if they were completely silly. If they made me smile–it was worth it.
They always did. It always was. That was the measure of success.
Even if I wasn't always everybody's cup of tea, it didn't matter because I was having fun and that, as far as I was concerned, was all that mattered. Hell is other people, after all.
*Circling, circling, circling*
So, here's the truth: I'm tired. I'm mad about being tired and I'm even madder that I can't make it funny and I'm going to tell you why.
I doubt many people will actually read this entire essay. After all, it's the Internet and there are zero cat pictures or pornography in it so, let's face it, who cares? But I know for sure that if I post a link to it with a picture of myself, that picture will get a bunch of reactions and comments. I also know that the majority, if not all, of those comments will have nothing to do with the content of the post and will focus solely on my appearance. If I just post the link with no picture–it will get few to no comments or reactions. No one will bother with it.
I know this to be true because I've been experimenting with this over the past several months.
What do I take away from this? It all seems to point to a persistent message that what I look like is what matters and what I have to say or offer does not.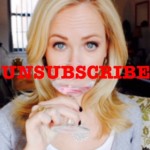 This is the part where someone tells me that I put myself out there and it comes with the territory. This is the part where someone tells me I better grow a thicker skin if I want to play on this playground. This is the part where someone else says I'm not that hot or funny. This is the part where someone calls me fat. This is the part where I'm called ungrateful… "unsubscribe." This is part where someone with a borderline x-rated profile picture calls me a bitch.
And this is the part where I finally tell all of those people to take several seats.
Here's the thing: I'm tired of just playing along and pretending like all of this doesn't matter. It does matter and if women like me just continues to say nothing, then nothing will ever change. Generally speaking, the uglier side of how the Internet operates is just generally accepted. We're told to deal with it or get out.
That is unacceptable to me. It always has been and it's time I publicly say so. The bottom line is: I do have a voice and it's time I stop circling and land on this issue with the full force of my abilities.
A man with his sweet little granddaughter in his profile picture once asked me about my "boobies." Are they real? "Boobies." This is a grown man. Another demanded, "show your tits." Another declared, "nice fake teeth." Still another said it's obvious I have a glass eye. Multiple people have registered horror when they discover I am over 40–begging for me to say it is not true. Someone else left a comment after counting the lines on my forehead. Recently, someone suggested I will commit suicide on the air one day. I've been told I look "disgusting" when I wear  glasses. A woman told me I'm "not as hot as people say" and I should "grow up and stop making videos." If someone tells me I "look great" they often follow it with, "keep it up!"
Keep it up.
That's just a sample.
None of these things, by the way, are made better if followed by "LOL" or a winky face or "jus' sayin'."
What I just wrote is the Internet equivalent for a woman of kicking a hornets' nest into a cobra pit. What often follows when a woman, any woman, on the Internet speaks openly about this sort of behavior is an explosion of negativity. Women are slammed for not taking a compliment or, again, are simply told to ignore it all. Personally, I've been told I bring it on myself just by having a blog and a YouTube channel and by choosing to be active on social media.
Even more, we find ourselves in the position of having it explained to us that, despite our experiences, we are off base. Our concerns are minimized and chalked up to "a few bad apples." Then, on top of it all, if we neglect to just just grin and bear it and choose to speak out, people threaten to take their attention elsewhere, stop following, "unsubscribe."
"What a bitch."
I have learned that a lot of people who have a lot to say on the Internet don't like it when you talk back. When they predictably threaten to leave, I have always been more than happy to hold the door.
I don't owe anyone a explanation but I do want to be clear–I can take a compliment. I appreciate kind words. I am exceedingly grateful for the loyal community of respectful people who enjoy what I do and I cannot thank all of you enough for your continued support. I was reminded recently of just how many of you there are and I do thank you.
I'm not "one those man-haters" as one commenter once theorized. But I am fed up with what I see as something I have the power to, at the very least, bring out into the open and hopefully change at least within my own community and in my own corner of the Internet.
I very much admire author, columnist and performer Erika Napoletano. She holds her community to a standard and is very clear about it. She really spoke to this subject in  a recent Facebook post. She was addressing overtly sexual comments made on a photo she had posted. They included someone calling her a "MILF." (This, despite the fact, by the way, that she does not even have any children.) Anyway, it said, in part:
In a world where everyone has a voice — use yours to lift others up. Because those words you think of as compliments (like MILF)…aren't. They reduce the person standing in front of you to a sexual object. And just…an object. Those words aren't compliments. They're weapons against a person who has done nothing to you except catch your eye.

I'm no one's object. And I certainly hope you love yourself enough to not be anyone's object, either. You're worth more.
She is right and she along with comedian and author Jen Kirkman, whose Twitter feed is currently populated by hundreds of retweets of women's stories of harassment, have encouraged me to use my voice to speak out–to stop stewing and stop circling and take a stand on this point.
Here's my challenge and I'm not interested in debating anyone on this–be better and say something else.
If you want to be part of my corner of the Internet then please respect the following:
1.) I am an adult woman who is more than my appearance. I have skills. I have opinions. I demand to be treated with respect.
2.) If you wouldn't say something to my face, don't write it in the comments.
3.) Remember that I am someone special to a great number of people and those loved ones read what you say.
4.) Consider this: would you tell your grandmother she has "nice tits?" Yes? Well, then God bless you both….you get my point.
We are all responsible for making this world a more civilized place and it begins by setting expectations. You now know mine. If you don't agree–there's the door. It's as simple as that.
And now, if you don't mind I have to free this hedgehog wedged in a chute.

Copyright secured by Digiprove © 2016 Kate Welshofer