When I see the word "tragedy" in a script, I almost always change it–ditto for the word "shocking." It's something that's been ingrained in me for a very long time–almost since my first year in news. My mentors advised against its use and I followed their lead. I really wouldn't truly understand why I shouldn't use those words in the course of regular storytelling for many more years to come and now I understand it more than I want to.
I got scolded as a young producer for using the word "tragedy." It's not our job to pass judgement on those kinds of things, first of all–good or bad–but as I look back I realize that I can't even remember the story. I can't even remember. Car accidents, fires, crimes–these things are sad and they are devastating to those personally affected, but words have power, strength in their connotations. I would learn that the word "tragic" is too much for those news stories; that, by all accounts, despite their sad nature, they are incredibly routine. We see them everyday. They pass almost unnoticed–footnotes with morning cups of coffee or chats over lunch. Days may go by where news events aren't even mentioned outside of offices like mine. The truth is that bad things happen all of the time–we just don't always bother to talk about them. It's not something that looks good on anyone to say openly, but, perhaps among friends, we might allow that it is very true.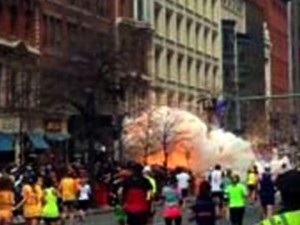 True tragedies you talk about and you never forget them–Columbine, 9/11, Newtown and now Boston.
I  have played a role in covering all of those stories throughout what is really a relatively short career and each time I have thought to myself that I'll never feel that emotional for another story because I can't imagine it getting worse. Somehow, it always manages.
As I sit with a quiet cup of coffee, I consider the young producers and reporters I work with now. I think about how, in a matter of months, they've spent long hours covering some of the worst of what humanity can muster–first with the mass shooting at Sandy Hook Elementary School and now with two blasts at the Boston Marathon. I consider that, for many of them, it may be the first time they've understood why I hate the word tragedy and I consider that, like me, as their careers continue, they'll only develop a greater understanding. It's not something I can think too much about or I will never leave my home.
I don't like thinking that living a normal life will have to be considered a heroic act–that the simplest of pleasures will have to come at such a high cost. I can't offer any profound words, I can't make sense of these things, I can't stop them from happening.
What I can do is what I've always done–my job. I can tell the story and I can choose my words carefully.

Copyright secured by Digiprove © 2013 Kate Welshofer