Here's a headline that caught my eye:  Wisconsin Professor wins 2011 Bad Writing Contest. The wha????  I couldn't have been more excited. Who wouldn't want to be the best at being the worst?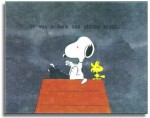 Since 1982, San Jose University has held the Bulwer-Lytton Fiction Contest ("where WWW stands for Wretched Writers Welcome.")  The contest challenges writers to do their best to compose bad, okay, terrible opening sentences to imaginary novels. What I enjoy is that the contest is named  for Victorian novelist Edward George Bulwer-Lytton.  He's the guy who came up with "It was a dark and stormy night."  It's the opening line to his novel "Paul Clifford."  I sort of like it, actually.  I imagine Snoopy typing away on top of his dog house everytime I hear it.
Anyhoo, this year's winner is Sue Fondrie, an associate professor of Curriculum and Instruction at the University of Wisconsin, Oshkosh.  Sue harnessed the latent homicidal energy of wind power to come up with her God-awful submission:
Cheryl's mind turned like the vanes of a wind-powered turbine, chopping her sparrow-like thoughts into bloody pieces that fell onto a growing pile of forgotten memories.
At just 26 words, Sue's opening line is the shortest grand prize winner in the contest's history, proving, I suppose, that terrible things can also come in small packages. San Jose State Univeristy Professor Scott Rice told the Associated Press that the judges liked her entry because it reminded them of  the 1960s hit song "The Windmills of Your Mind," which Rice described as an image that "made no more sense then than it does now."
Sense is of little concern in this contest. In fact, you're probably better off without it.  Andrew Allingham of Fairfax,Virginia came up with this gem, landing him runner-up honors in the Fantasy category.
Veronica, two months pregnant and attempting to get her boyfriend to notice, and Ricky, who wanted to end things with his expansive girlfriend, sat at a table-for-two around lunchtime at the Olive Garden in Columbus, Ohio, eying the bottle of house rosé which, unbeknownst to them, doubled as the portal key to Khrysandelt: The land where everything glitters slightly more than normal.
Adventure, Crime, Historical Fiction, Sci-Fi, Romance–there are countless categories and you can read all of the winning losers & "dishonorable mentions" on the contest website  www.bulwer-lytton.com.
Thanks to these fine scribes we can all live crappily ever after.

Copyright secured by Digiprove © 2011 Kate Welshofer