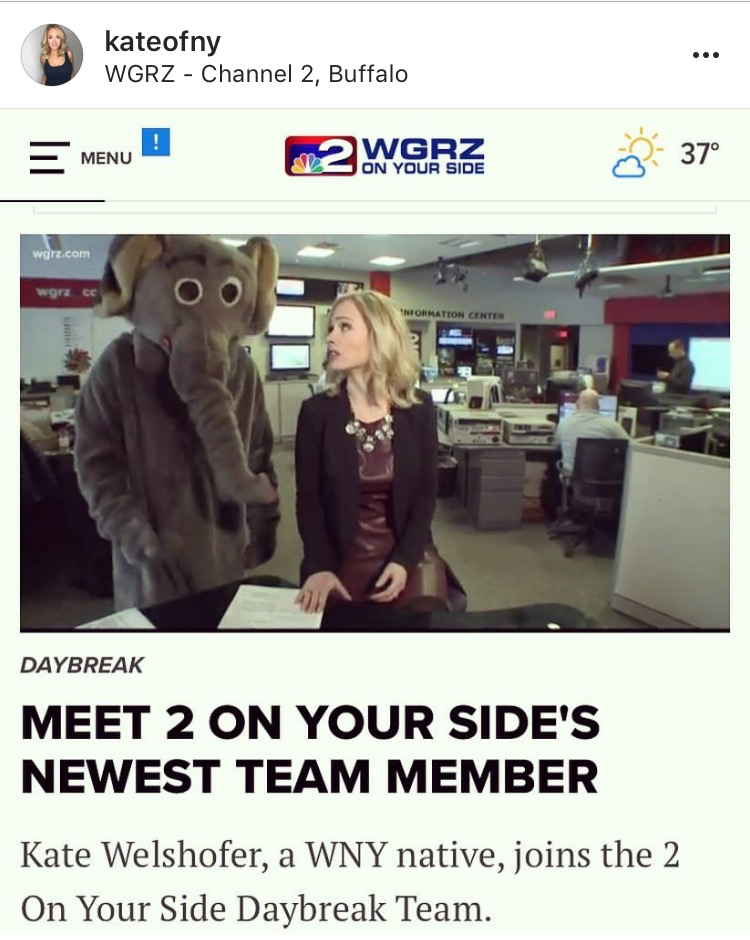 Getting serious about being silly…
I just wrapped up my first days on the air at WGRZ in Buffalo, NY. It is just the beginning of a whole new adventure for me. I am re-energized, re-invigorated, still a little scared but in a totally good way and I am learning new things everyday. I am really excited about what lies ahead as I continue to wrap my head around this amazing opportunity. I am equally grateful for all the support I've received. Buffalo has been an incredibly welcoming city. Thank you.
When I think about my new job and what I want to accomplish overall with my work, with my life and what I want to offer, it's really pretty simple.
I want to give people a break.
I started my YouTube channel because I needed to give myself a break from the stress and frustration I was feeling in my news career at the time. The truth is: everyone feels pressure. You don't need me to tell you there is a lot going on. Work, school, the news–it can all be stressful. Log on to social media and you can instantly feel like you're just not cutting it–in love, lunch, fitness, fashion, pet parenting –everything. On a certain level, we all know it's just a highlight reel, but we can sometimes still feel the pressure to make our own highlights juuuuust a little bit better.
Making YouTube videos taught me a few things: it's okay to be yourself, it's okay to enjoy yourself, it's okay to fail and it's really okay to just let go a little bit. People who do things like give TED talks and write books and post inspirational quotes ad nauseam on Instagram would probably call that "embracing vulnerability." Whatever you call it, it feels good. I want to bring that feeling to people through my work.
This is a concept that has been evolving for me for awhile now and I'm incredibly lucky to be able to devote myself to exploring it full time. Here's the thing: I take this mission of bringing a sense of fun and freedom into people's lives incredibly seriously and that's the thing I really want to talk about.
The funny thing about funny things is that some people are very quick to dismiss them. Very often, they'll write off lighter fare on local news as frivolous, stupid, unnecessary. "SLOW NEWS DAY?" they shout from their keyboards on social media because, ironically, everyone thinks they're a comedian.
The most laughable part, though, is that these are the same people I've encountered countless times over the years at parties and picnics and functions by the dozens who, upon hearing what I do for a living, half sheepishly, half triumphantly declare, "I don't watch the news. It's too depressing."
Still, they're human…I think. Presumably they enjoy a funny show or movie or video every now and then. I'd venture a guess that they'd choose happy over sad and prefer to laugh rather than cry but then again…what do I know?
Like I said, sometimes you have to learn that it's okay to let go a little. It's okay to care about the economy and the crime rate and still enjoy a feature about the world's largest taco or a chicken nugget that looks like Jesus or otters in law school or whatever. It's all life. It's all happening. It's not one or the other–at least I don't think it has to be.
Here's at least one thing of which I am almost certain: a majority of people don't understand the time, the energy, the thought or the work that goes into creating something fun.
I've spent hours editing videos so that the music drops or swells at just the right points throughout. It would not be unusual to find me stooped over a keyboard trimming fractions of a second from a video to make a reaction just right, to wait a beat because I think it makes it just a little bit funnier. I've agonized over just the right angle to make a chair seem slightly more hilarious. Most of the time, I'll look back and think things like, "man, maybe the Adirondack has a better personality than the recliner."
It sounds nuts.
It is.
I love it.
These silly little details really matter to me and, the truth is, they probably matter to you too but you may not realize it. The real goal is to ensure you don't notice at all–you smile, you have a laugh, you get a break.
That's it.
So, who cares about any of this?
Right.
Solid question.
As I'm reflecting on my first days of this new adventure, I realize that I am learning what it means to have your heart solidly in your work and to have who you are and what you do start to dovetail in a way that's really cool.
I realize I am a work in progress and I think I might be a little bit of a late bloomer. I know I am not perfect. I know I have a lot to learn. I know I may not be everyone's cup of tea, but I also know that I'm creating something that will exist because of my time, my talent and, most of all, my heart. It's personal. What may seem really silly to some people, is serious business to me. Life is sometimes pretty heavy. If I can be the person who lightens it up for people, even for just a couple of minutes a day, I'm happy.
If you have gotten this far and are thinking, "Oh my God. Gimme a break." Great.
Stay tuned.
I will.
P.S. If you have ideas for places I should visit or people I should meet or things I should see in Buffalo, let me know! Do you know otters in law school? Let's talk. You can send your story ideas to kate.welshofer@wgrz.com
For a look at my Buffalo debut on WGRZ, check out the videos below.

Copyright secured by Digiprove © 2018 Kate Welshofer