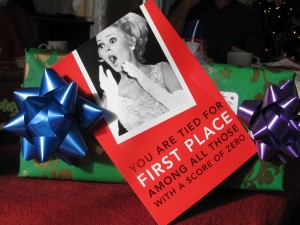 Drumroll please!
It's time to unveil this year's contenders for the Ugly Ornament Contest. If you haven't already, you can read about our ridiculous little family tradition here. This year, for the first time, we're letting the Internet decide the winner.  That means you.
We have four competitors:  My sister and I (as always) and this year, two of our dear friends–who are first timers! We won't be revealing who is responsible for each of these yuletide monstrosities until the voting is complete. You have until New Year's Eve to cast your ballot. Please leave your choice 1, 2, 3 or 4 in the comments below and any other comments you feel compelled to share.  The winner will be revealed on New Year's Day.
So, let's see what the Ugly Ornament gods have brought us this season.
Contestant #1: Alooohaaa….Ugh.  Hands up for this frogtastic little submission. Pull up your grass skirt, honey, because it's gonna be a hot holiday. Talk about a Hono-lulu. Hu-la hell would put this on a Christmas tree?  Perhaps the UOC champ. Is she it?  She sure hopes so. I mean, just look at her, those arms are saying, "pick me!" or maybe it's "I give up!"  Only you can decide.  So, stick an umbrella in that egg nog, sweetie and consider this little lady for UOC glory.
Contestant #2: Well, Helloooo!  Look who's happier than a pig in ssss…sugarplums this Christmas! One eye's on you and the other's on Santa with this little gal.  And we couldn't help but notice she. is. stacked! "SOOOIE!"  We know what they say about putting lipstick on a pig, but is it just us or is she working it? That wry smile says it all:"What's up, losers? Winner's right here!"  Her dancing shoes are on.  So is it going to be a victory dance?  Will UOC be the next YMCA?  It takes a Village…People to decide. Cast your vote for this little Christmas ham if you think she's the top pork chop.
Contestant #3: Well, well, well, what is that sound you hear? That thumpity-thump and tappity-tap? Why it must be that frosted frog in the feather headdress again banging on the drum all day. Behind those mirthful eyes and knowing smile lies the heart of a champion, hopping (yes..hopping) and praying for a chance to sail into UOC history as the 2011 champ. Will you give this glittery witch doctor of holiday cheer that chance? Pa-rum-pa-pum-pum!  And….is he blushing?
Contestant #4: Who? Who? Who wants SEQUINS?! Talk about jazz hands…er wings.  I mean, come. on. Is this patchwork Audubon-mination a hoot or what? Roosting creepily in our final slot this year, this button-eyed owl has his eye on you for sure and he's certainly got beaks flapping in this year's UOC. Really, doesn't that blank look on his face say it all? Did we save the best or last?  That's up to you. Of course, this guy would encourage you to choose "wisely."
All right. That's it. UOC 2011:  It's up to you Internet. Do your best….with the worst! We look forward to your decision. Remember: you can vote until midnight on New Year's Eve! We'll reveal the winner New Year's Day.
UOC 2011! Vote! Vote! Vote! Leave your favorite (by number) in the comments below!

Copyright secured by Digiprove © 2012-2013 Kate Welshofer