As you prepare to enjoy your Memorial Day weekend, here are five fun things to know and share… or use to break up a particularly vicious argument over the proper pronunciation of "s'mores."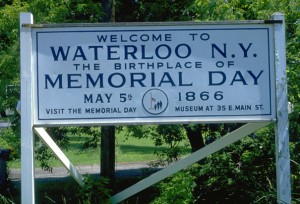 1. You can thank Waterloo, NY for your long weekend. The village in the heart of the Finger Lakes is credited with holding the first Memorial Day celebration back in 1866.  It was an effort to honor the Civil War dead.  It became the first village to hold formal, annual observances and was officially recognized by both the state and federal governments as the birthplace of the holiday in 1966. Read more about it right here.
2.  The guy who wrote the Pledge of Allegiance was born in Mt. Morris, NY, the next town over from my hometown of Perry.  Another fact: this is the first time I've been able to use that fact. And, okay, maybe it's not technically a "Memorial Day Fact" but hey, it's almost a three-day weekend so who are you to get so touchy?  Anyhoo, Francis Bellamy was his name and he wrote those words that have probably been uttered millions of times as part of a campaign to celebrate the 400th anniversary of Columbus' discovery of our little home here.  You can see a portion of Bellamy's handwritten original pledge here.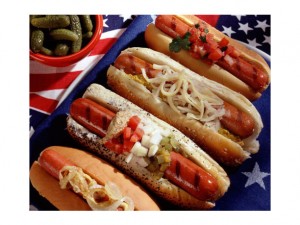 3.  Memorial Day is not just the unofficial start of summer, it is the official start of Hot Dog Season, which is actually a thing. It runs from Memorial Day to Labor Day. According to The National Hot Dog and Sausage Council,  Americans typically consume 7 billion hot dogs between those holidays.  That's  818 hot dogs eaten every second!  "FIRE UP THE GRILL, MAW!"
4. I'm going to a parade and you should too.  Not only is it spectacular people-watching, but the only reason you can eat enough hot dogs to fill a stadium over a lifetime or write a stupid blog or do any of the things you do everyday is because brave people did brave stuff and sometimes, they don't get to come home and tell anybody about it.  Go ahead, go to a parade.  Say thanks.  Have a hot dog.
5. And finally,  here's something that is sure to kick your Memorial Day off on the right foot.  It's pretty much the Bill of Rights on wheels.  Red, White & BOO-YAH!

Copyright secured by Digiprove © 2011-2012 Kate Welshofer
Acknowledgements: Village of Mt. Morris, Village of Wat more...