Remembering today…
In 2011, when my father became ill with what we would later learn was pancreatic cancer, I started writing a story. You can find it by clicking here. I never finished it and I have thought about that many times. I hear lines in my head and fail to write them down. It's all there, but I just haven't taken the time to continue on with it. At the time, writing everything down was how I was getting through it, a coping mechanism. To continue the story now is to go back, to remember and that's not always something we are willing or able to do. Finishing what you start, however, is usually the honorable thing to do and in honor of my dad and for the benefit of anyone else touched by the loss of a loved one, I do want to finish the story.
This seemed a particularly appropriate time to go back, to return, to pick up the story. Everything changed, in earnest, on Valentine's Day of that year. I realized then that how I viewed the day would be forever changed.
The Unforgettable Valentine
Dearest Katherine,
Couldn't resist this cartoon.  It is appropriate.  Things moving along here.
I think you've been informed of all the doings.
Hope all is well on your end!
Our love,
Dad and Mom
I held the card from my mother in my hands, just staring at it as I sat at my desk in the corner of my apartment. It had the sweetest little picture on the front–a little girl shaking little red hearts out of a little tree.
Happy Valentine's Day, Daughter…
She had enclosed a comic strip she'd cut out of the paper, Pickles–the old couple and their cat. It made me smile. In spite of everything–a valentine.
In our house, Valentine's Day was always a little extra special. As a kid, instead of buying valentines at the store, my mom and I would make them–cutting out red and pink construction paper hearts and doilies at the dining room table, finding cute little pictures in magazines to paste inside. We'd make one for every kid in the class and one for the teacher, back when kids still did things like that in school.
My dad always made his own valentines too. Every year. He'd take "a good heavy card stock," as he was so fond of saying, red colored pencils, a Sharpie or fountain pen and sitting at the chair in his office he'd busy himself with cutting out hearts, nothing too fancy–a few red ones, a few white ones, big and small. He would put them together into a valentine for my mother. One year he figured out how to make a pop-up card and seemed incredibly pleased with the execution of it. While the cards varied from year to year, the message was always the same.
Happy Valentine's Day, Patsy.  I love you.
"Oh you just think you're so clever," my mother would always kid him and he would laugh, that mischievous twinkle lighting up his eyes.
The card would almost always accompany a box of chocolates from Oliver's, a favorite shop that, in my dad's opinion, had "exceptional treasures."  When he discovered once that I liked one chocolate better than all the rest, he managed to arrange it so that my box of chocolates would be filled with just that one kind–chocolate meltaways–my favorite. Without fail, those chocolates came every year–wherever I was.  It was impossible to feel alone or unloved on Valentine's Day.
I sat looking at my mother's card.
Things moving along here.
It's funny the way she turns a phrase sometimes–never one to overdramatize, to draw too much attention. She is the kind of person who carries on whatever the circumstance with a sort of quiet resolve, the kind of person who worries about everyone else. Always searching for a little levity, she is also the kind of person who would still bother to send valentines a week after learning her husband of 53 years has pancreatic cancer and, "at best" three months to live.
The doings.
That was what had finally happened. I was aware and, strangely, I had not spoken to my parents since they had received the news. It seems odd, I know, to not have picked up the phone immediately. I reasoned that I didn't want to put them through it–having to explain. The truth was: I don't think I could bear to hear them say it out loud, to put them in the position of having to say it out loud–my dad having to say that about himself. I worried mostly that I wouldn't be able to hold it together and I didn't want to upset them further. Our family is a little weird like that. We always worry about worrying each other. Despite the impossibility of it, everybody is perpetually "fine" and more concerned that "you're okay."  It's more than a little goofy, but it works somehow.
Mostly, I couldn't stop thinking about my mother.  Sure, I was having to consider the idea of losing my dad, but I was very mindful of the fact that she was watching the love of her life slip away. I won't live long enough to love anyone for 53 years even if he crashes through the ceiling right this minute. I felt like they needed their space, their own time to maybe digest it all–just the two of them, to take care of each other. Like everything else in life I thought there would be time. Barely a week after his diagnosis, though, there I was, sitting at my desk, turning that valentine over and over in my hands. I had to prepare myself.  The time had come to go home.
*    *    *   *
The phone rang the night before–a Sunday. It was later–a time of night when the sound of a ringing phone instantly heightens the senses, sends a chill. My sister was on the other end.  Ever even-tempered and compassionate she began the conversation with, "how are you doing?"
She said wanted to update me on what was going on and in her voice I started to realize that this was the beginning of the end, a conversation I had dreaded for the better part of my adult life. As it went on, I learned my dad was really not well. His condition had taken a dramatic turn for the worse in a matter of days if not hours.
"It's taking three of us to help him get around," she said. "He can't do it on his own. We've had to call the hospice nurse."
The hospice nurse. My mother would have sooner let a rabid animal into the house than to allow a complete stranger to hang around like that. I knew it had to be bad. In that moment, I didn't want to cry. I didn't want to worry my sister like that.  She paused and let out a deep breath.
"So….that's where we are…aaand…I dunno."
I dunno.
She did know and so did I. I'd heard her say that phrase so many times on so many occasions. "I dunno."  It's almost code for: "please come to the right conclusion so I don't have to say it."
I drew a breath. "Are you telling me," I struggled to mask the cracks in my voice, "are you telling me that I should come home?"
Silence, another deep breath and then she whispered, "yeah…."
We both started to cry.
You do weird things when you get really bad news. I don't know if it's primal or what but the next thing I knew I was in a ball in the closet. With the cat sitting next to me, I sat there and cried, hating myself for thinking that the first thing I'd need to put in my suitcase was a black dress.
*      *     *      *
The next morning I had to go about the business of getting my affairs in order, I had to call work, to pack, to gather myself to drive the four-plus hours home. It was all a haze and then the phone rang–my sister.
"They're taking dad to the hospital now in the ambulance.  He's really not doing very well."
"Okay."
Dropping everything is not as easy as everybody always makes it sound. It's much more difficult, actually. I hung up with my sister and ended up spending the next hour or more making phone calls and having surreal conversations with everyone from my boss to the human resources rep to a complete stranger named Steve at wherever the place is that organizes leaves of absence from my company. We didn't exactly get off on the right foot.
He opened with something like, "I do this all the time. So, you don't need to be so concerned about everything."
I didn't particularly dig his tone.  So, I shot back.
"Well, this is my first time, Steve. So forgive me if I have….a few…questions!"
The ball in the closet had now become Basket Case Number 866418 with forms to fill out and endless questions to answer–my name, my address, my social security number, my phone number, my fax number and then…
"What is your father's date of birth?"
"My…what? You need that? Jesus. Um. Okay. October 19th.  He's 82…so that's…oh God, I have to do the math…what is that 1928?"
"Yes.  How long do you expect be gone?"
As if it was a vacation.
"To be honest with you, Steve, I don't know. I have absolutely no idea. From what I know right now? I could be on bereavement by the end of the day."
I shocked myself. I was so matter-of-fact. I almost didn't believe what I was saying, how easily and directly the words came…the truth. He might be gone before I got home. What happened to three months? It was all happening so fast now. The worst part was I found myself feeing bad…for Steve. He does, after all, have to deal with this kind of thing all the time. Can you just imagine?
"I'm sorry," he said, "we'll make it open-ended, then. We'll take care of it."
"Thank you, Steve."  And I added, "I'm sorry."
"Don't apologize. I understand."
It was at that moment I realized I was still in my pajamas.
"I have to get out of here," I said to myself.
And so I did.
*      *      *     *
I don't think I listened to the radio or anything.  I just drove.  I thought about what I would find when I got home and how I would handle it.
I kept coming back to the last time I had seen my dad. It was that January, just a few weeks before. I had made a weekend trip for my nephew's birthday party, which my dad decided not to attend. He apologized more than once that weekend for not being "more sociable," but he was tired, uncomfortable. Still, he was thrilled to play with my new computer that I had brought home to show him, thrilled to talk about how it worked and what it could do.  He sat in his rocker, tapping away at the keys, his eyeglasses down on his nose.
"I'm so pleased," he said, "with your new machine.  It's really quite something.  Marvelous."
Small moments and little conversations. They were so normal and they were getting more and more difficult. As my mother and I sat and visited, I watched, more than once, as he put his head back in his chair and closed his eyes.
When Sunday came, we stood in the kitchen. I had picked up the last of my things and loaded them into the car, ready for the drive back to Albany.
"I'm sorry to leave that job to you and your mother," he said. "Feeling awfully damn useless I guess."
This was a man who could manage to cram practically the entire contents of an average home into the back of a station wagon using a combination of expert spacial relations and the sheer force of will.
"You're not useless, Dad,"  I said, "we can manage and besides the exercise will do us some good."
He rolled his eyes, sick of it all I think, everyone being so nice, so upbeat, but he smiled.
"Drive carefully, m'dear,"  he said.  "Call us when you get there."
"I will," I said, wrapping my arms around him, my head resting on his shoulder. His sweatshirt had started swallow his shrinking frame and it was all I could do to hold back the tears.
"I love you, Da-lee."
"I love you, Katherine.  Get under motion, now, before it gets any later."
And I left.
I thought of those moments the whole ride home that Valentine's Day and probably a million times since. I thought to myself that if I never got to see him again or to talk to him, if he slipped away before I got there, I could be okay knowing that our last words were "I love you." I spent that four hour drive making my peace with it all, acknowledging that you couldn't ask for more than that, really.  What more can you possibly say?
My phone continued to buzz throughout the trip–updates from my sister.  They had waited for me as long as they could but wanted to get to the hospital and so I agreed to meet them there; but first, I would have to stop at home and drop off the cat.
Walking into the house I grew up in had never seemed so strange. It was nothing but quiet. In our den, my dad's favorite green leather chair was empty. There was a walker I had never seen before, magazines, some papers, his journal.  He had not written in it in a few days.  He had always written in it everyday. And then I looked down and saw his shoes. He had not needed them when he left. Those two empty shoes hit me like a ton of bricks.
"I have to get out of here," I said to myself.
And so I did.
*      *     *     *
I hate hospitals and I don't really know anyone who doesn't.  It seems weird to me now that I didn't know where to go that day, because now I could walk around that place with my eyes closed. I took a deep breath as I stepped off the elevator, desperately wanting to hold it together for the sake of my mother and I did what I think anyone would consider a remarkably good job.
My mother, sisters and I fell into immediate small talk in the common area of the palliative care unit.
"How was your drive?"
And then, eventually,  "did you want to go see your dad?"
"Okay."
Those hospital floors record every footfall, the sound just echoes, making every step one to remember. I felt like a kid, taking tentative steps toward the room in the corner, my arms folded. I peered around the door and was unable to see him at first. Then, there he was.
"Heeey, Dad."
He paused a moment and then turned his head on the pillow, "well, helloooo, Katherine."
It was just how he always greeted me and even though his voice was thin and soft and it seemed to take a great deal of strength to do so, that's how he greeted me that afternoon.
"How was your drive?"
"It was fine," I said.
Jesus, we all couldn't be more alike.
"It was fine,"  I repeated, not knowing what else to say.
"Good," he said.
We visited awhile–all of us–sort of getting our bearings, figuring out where we were and what was happening. My dad's condition had improved. He was feeling markedly better. A little bit of rosy had returned to his cheeks and he was resting as comfortably as I suppose he could. I felt bad for him, lying there–the guest of honor, surrounded by clamoring, chattering family–cracking uncomfortable jokes and desperately trying to hold themselves together. He never liked a lot of fuss and more than once he told us all to go home. Suddenly, in the midst of all of it, he wanted my attention.
"What's up, dad?"
"You should get going back to Albany," he said. "I think The Weather Channel said we'd have snow."
"Oh no, Dad,"  I said.  "It's okay.  Work is going to let me stay awhile. It's all arranged."
True to form, he sort of sighed, shook his head and waved his hands as if to say, "well, suit yourself, have it your way, but don't come running to me when you're stuck in a snowbank on the Thruway"
"What are you trying to get rid of me?"  I joked.
"Nooooo," he whispered and then he smiled and closed his eyes.
"Get outta here,"  I said and I held his hand.  He gave a little squeeze.
This was the first day of what I guess some people would call a new normal and it was Valentine's Day.  It was not about romance or anything but looking around that room you knew what people would do for love. That is to say…anything….everything.
We are forever joined in this world by the people we love and the people who love us. You don't need a box of chocolates or a dozen roses to know that you matter–because you do matter to the people who love you and the people who have the pleasure of knowing you. Your laugh, your smile, the way you tell a story or make a sandwich; I think we're absolutely classified by the smallest of moments. In the end, no one cares about anything else. It's your light and your spirit that define you–the sparkle in your eye, the spring in your step, the way you say hello. Nobody can do that better than you can.
This is what I think about now when I think about Valentine's Day–my dad and those smallest of moments.  It's bittersweet to be sure, but it helps to have a little perspective to see through the forest of roses and mountain of foil-wrapped hearts.
After all, that Valentine's Day…was just the beginning.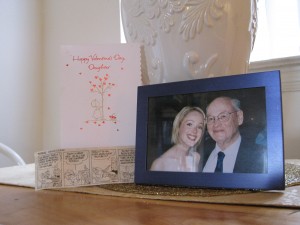 A final note:  pancreatic cancer is a diabolical disease and it's survival rate has not improved in a staggering 40 years.  Research is really the key.  Please consider a donation to the Lustgarten Foundation for Pancreatic Research. Thanks to corporate support, your donations go straight to research.  Thank you.

Copyright secured by Digiprove © 2012-2017 Kate Welshofer